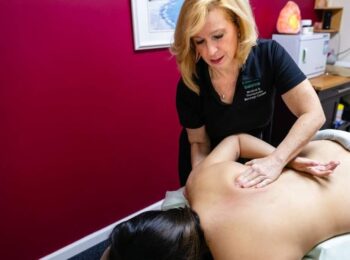 Book Now
Customized Massage- Get a FREE posture evaluation that reveals your bodies muscular and skeletal imbalances. That evaluation will assist me, as your Therapist, in determining what techniques to use and where to apply them. At the end of your session I will review my findings and discuss what I feel can help you improve on your own and with my assistance. The techniques, may include but are not limited to the following; myofascial release, Thai, neuromuscular, structural integration, Orthopedic Manual Therapy, Oncology Massage, MuXing, Deep tissue, Trager.
$100 (60 min), $150 (90 min)
Neuromuscular Therapy is the utilization of pressure and motion, in specific areas, to relieve pain and increase function. It works by soft tissue manipulation based on the central nervous system and the musculoskeletal system. A neuromuscular therapist will be well versed in biomechanics and kinesiology. The goal is to balance muscle functions.
$100 (60 min), $150 (90 min)
Lymphatic Drainage refers to the filtration system of the body which consists of lymph vessels, nodes, tonsils, adenoids, spleen and thymus. This system relies on movement to circulate fluid and eliminate the toxins to keep the immune system healthy and defend against infection and disease. Special training is needed to properly aid this system in cleansing the body's lymphatic system. Lymphatic drainage improves the function of the immune system.
Add on to another massage service $15  |  $55 (30 min) | $100 (60 min) 
Myofascial Release is used to aid the fascia in breaking down the restrictions found in connective tissue in order to decrease pain and restore motion. The restrictions are often caused from past trauma, some form of chronic problem, or it can also be from muscle imbalances, immobility, repetitive shortened motions.
$90 (60 min), $135 (90 min)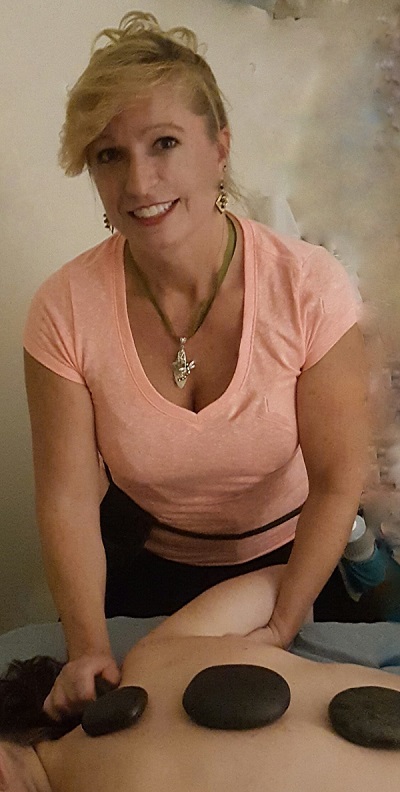 Craniosacral Therapy consists of specific gentle holding patterns to assist in activation of the natural healing of a person's nervous system. This system consists of the brain, spinal cord, and that which encases them along with the fluid that circulates throughout the body. The ebb and flow of the fluid may encounter restrictions that cause imbalances, which cause chronic pain. Common conditions for this treatment are PTSD, ADHD, scoliosis, whiplash, cluster migraines or chronic headaches.
$90 (60 min) $135 (90 min)
Thai Massage is an ancient healing practice that uses gentle pressure & stretching techniques with client actively or passively participating in the massage. This is often done on a floor mat or firm massage table.
$100 (60 min) $150 (90 min)
Sticks & Stones The use of these smooth rosewood & bamboo wands "MuXing" coupled with the deep penetrating heat of hot stones are a wonderful warm gentle yet firm way to melt away knots, tension and increase circulation of blood and lymph while assisting in myofascial release. This is not only relaxing but very therapeutic.
$90 (60 min) $125 (90min)
Ayurvedic Techniques aka "abhyanga" incorporates holistic and integrative medicine principles used for over 3000 years. The main focus is to balance out doshas within your body to achieve spiritual fulfilment and relaxation. This technique improves the circulatory and lymphatic systems while releasing muscle tension and nourishing the skin. Various scented oils, speed and type of strokes are used to bring balance to the three doshas (Vata-air/space, Pitta-fire and Kapha-water/earth).
$85 (60 min) 
Types of Ayurvedic massages offered are:
Odyssey – dry glove exfoliation massage starts the detoxification process and stimulates the lymphatic system and is followed by a warm oil massage.
Vishesh – rhythmic massage firm slow strokes to break down contracted muscles and adhesions.
Kansa – is a type of ayurvedic tool which is capped with precious metals and used over miramar points and skin to enhance circulation of life energy (lymph and blood). This precious metal promotes the balance of pH levels, detoxifies the body, delays aging process, soothes inflammation nourishes and revitalizes the body.
Herbal Poultice Massage is a type of tapotement massage where the blend of herbs increase the circulation and enhance the immune system while relaxing sore tight muscles.
$100 (60 min)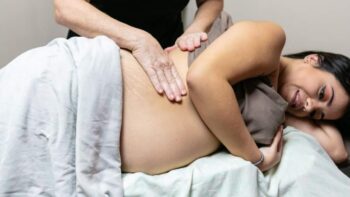 Pregnancy Massage assists the mother with the rapid changes in hormone affects on the joints and soothes aches and pains while promoting circulation and nourishment to the baby. It is designed to decrease backaches, swelling, moodiness, cramps, headaches, and stretch marks.
$75 (60 min)
Lomi Lomi pushes blood lymph through the channels with the gentle yet firm rhythm of ocean waves.
$85 (60 min)
Sports Massage is often used before and after an event in order to enhance an athletes performance or to assist in recovering from a strenuous activity. This helps prevent injuries.
$90 (60 min), $140 (90min)
Deep Tissue is designed to sink into those tight sore and overused muscles to break down the contractions and restore blood flow. This should be a slow wave with gradually increasing pressure as the muscle releases and the blood flow is restored to that area, then the massage work can move deeper to the next level. It should not be repeated rapid hard strokes that increase inflammation, unless it's specific purpose is to promote inflammation, aka Rolfing. It is used to break down thick banding of bound / rigid tissue that are causing pain and dysfunction.
$90 (60 min), $140 (90 min)
MuXing (warm Rosewood & Bamboo wands) Melt stress and knots away like a hot knife through butter while increasing your immune system.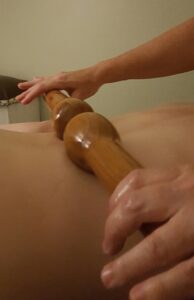 Add on to a service $15  | $90 (60 min) | $135 (90 min)
Hot / Cold Stones are also an excellent way to increase the flow of blood and lymph circulation and enhancing the immune system while helping to loosen tight, sore muscles and reduces inflammation. The contrast of hot / cold increases white blood cells to strengthen your immune system. Great for allergies!
Add-on to another massage service for $20 | $90 (60 min)
Ear Candling It is believed that ear candling heats the wax build-up and melts the wax then it wicks up the candle into the filter area. It is said to remove fluid, wax and bacteria from the ear canal. $60 (30 min)
Reflexology is used to treat the entire body by pressing on different points along the meridians in the feet, hands and ears that correspond with other areas on that meridian. Stimulating these areas should decrease pain and tension. Breaking down blockages improve circulation of "Qi," fluids and nerve conduction.
Add on to another massage service for $15 | $45 (30 min) | $70 (60 min)| $95 (90 min)
Trigger Point Therapy is often used to treat muscle spasms, "knots," and referred pain as well as deep myofascial pain to a local area or region.
Add on to another massage service for $15 or $45 (30 min)
Cupping is used for detoxification, adhesions or to loosen very tight contracted or spastic muscles.
Add on to another massage service for $15 | $55 (30 min)
Cellulite Massage is a rapid moving massage technique that can be done with fingers, knuckles or a tool to break down the fat cell walls and then use radio frequency or infrared cabinet to melt the fat and flush it out through the kidneys. Use of our proprietary lotion expedites the process for enhanced results. Add a wrap to maximize results for $30. Recommend 12 visits.
$90 (60 min) | 30 min massage package with 30 min sauna, wrap & lotion = $140 OR Buy 6 pack $665 or 12 Pack only $1225 SAVE BIG!
Shiatsu / Acupressure  is the ancient art of finding & clearing system blockages through the entire body using finger pressure on various meridians like an electrical panel in your body.
$120 (60 min)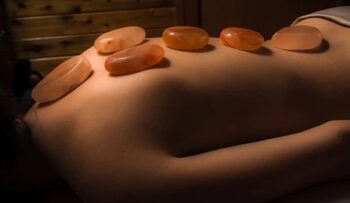 Himalayan Salt Stone Massage  is a health promoting / relaxing massage with warm soft Himalayan Salt Stones.
Benefits are: Relieves anxiety and addresses insomnia, improves circulation, promotes healthy blood sugar, lowers blood pressure, Supports respiratory system and sinuses, lightly exfoliates the skin and is highly relaxing, boosts bone health and prevents muscle cramps. Warm salt stones rest on your spinal column encouraging full body relaxation while soothing skin and muscles.
$90 (60 min) $125 (90 min)
Antiaging & Exfoliant Body Scrub & Luster – There are a few body scrub scents to choose from select your favorite when booking. Silky Skin has it's own wonderful scent and antiaging properties. There are other scrubs & luster packages such as relaxing Lavender and toning Cellulite Citrus. Using our unique blend of body scrub to remove weathered and dead skin from the surface. Followed by a gentle brushing to stimulate lymph and circulation and finally finishing with a very hydrating gentle application of Silky Skin cream to add a youthful glow and "Luster" to your skin!                   SALE PRICE $80
$100 (60 min)
Assisted Stretching – Don't know if you want a massage but definitely feel tight and Stiff! I can help! I can stretch use techniques to improve your mobility and decrease the strain. Heat and cold can be used as needed. $55 (30 min) $110 (60 min)
COUPLES 90 MINUTE MASSAGE $250
---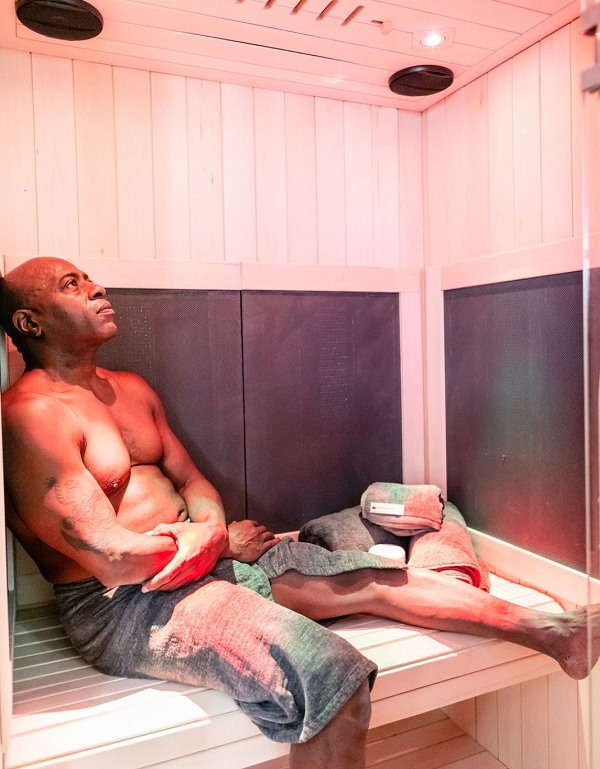 Sunlighten 3-in-1 Infrared Sauna
Sunlighten 3-in-1 Infrared Sauna, with preset computerized programs designed by a collaboration of European Scientists and Doctors each run between 30-45 minutes. The programs are designed to address pain management, weight loss, detoxification, skin conditions, improves circulation and decreases stress. $1.50 per minute 
Bring a friend or loved one to share in your healing Infrared Sauna Session for only an additional $10.
This cabinet also offers polychromatic light therapy which can assist with ADD / ADHD, Depression, Skin conditions as well as hormonal and cystic acne, and much more.
Classes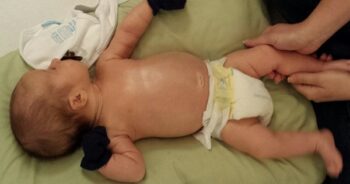 Infant & Toddler Massage Certification of Instructors (provides professionals w/ 20 CEUs)
Infant Massage Instruction for anyone
Geriatric Massage Instruction
Posture Balance class
---
Please contact me with questions!